Tohru Nakamura
Tohru Nakamura discovered his passion for fine dining during a kitchen internship at the age of 15. He has gone on to win many awards, including two Michelin stars and the 'Chef of the Year' title. The German-Japanese chef is also an 'honorary ambassador for Japanese cuisine'. His creations are European with Japanese influences, classic and traditional yet wonderfully creative and cosmopolitan.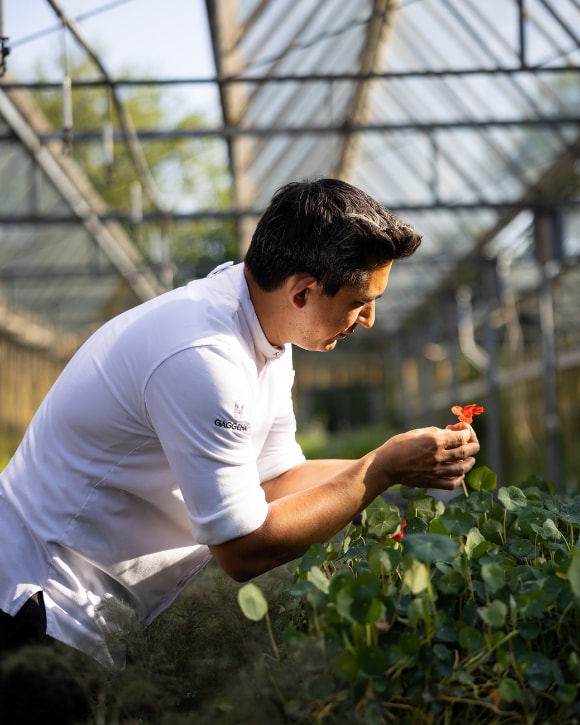 Garden Gastronomy Experience
Tohru in der Schreiberei aims at making guests feel as if they were sitting in Tohru Nakamura's home. The restaurant interior features elaborate walls, exceptionally comfortable leather chairs and custom-designed service stations, fine cutlery, hand-made crockery and individually designed steak knives, plus a lighting concept by Occhio and solid cherry wood tables.
Colourful and delicate works of art that convey the restaurant concept: premium ingredients, the majority home-grown, in unique combinations. The meals are accompanied by rare vintages of La Grande Dame, the prestige Champagne of Veuve Clicquot, ranging from 2012 to 1990.
About the restaurant
In the two seating areas for guests Tohru Nakamura and his team perform a perfectly orchestrated culinary and theatrical symphony consisting of focused craftsmanship, French elements and structures and Japanese flavors.
The symphony has several acts, all of them as unexpected as they are captivating, and everything is perfectly coordinated.