By Alanna Sapwell
"My Spanner Crab, Zucchini, Almond and Seaweed dish combines fresh and crunchy veg with the sweet and clean crab meat. As well as the nutty, buttery sauce with a pop of lemon using native Australian leaf - Geraldton wax."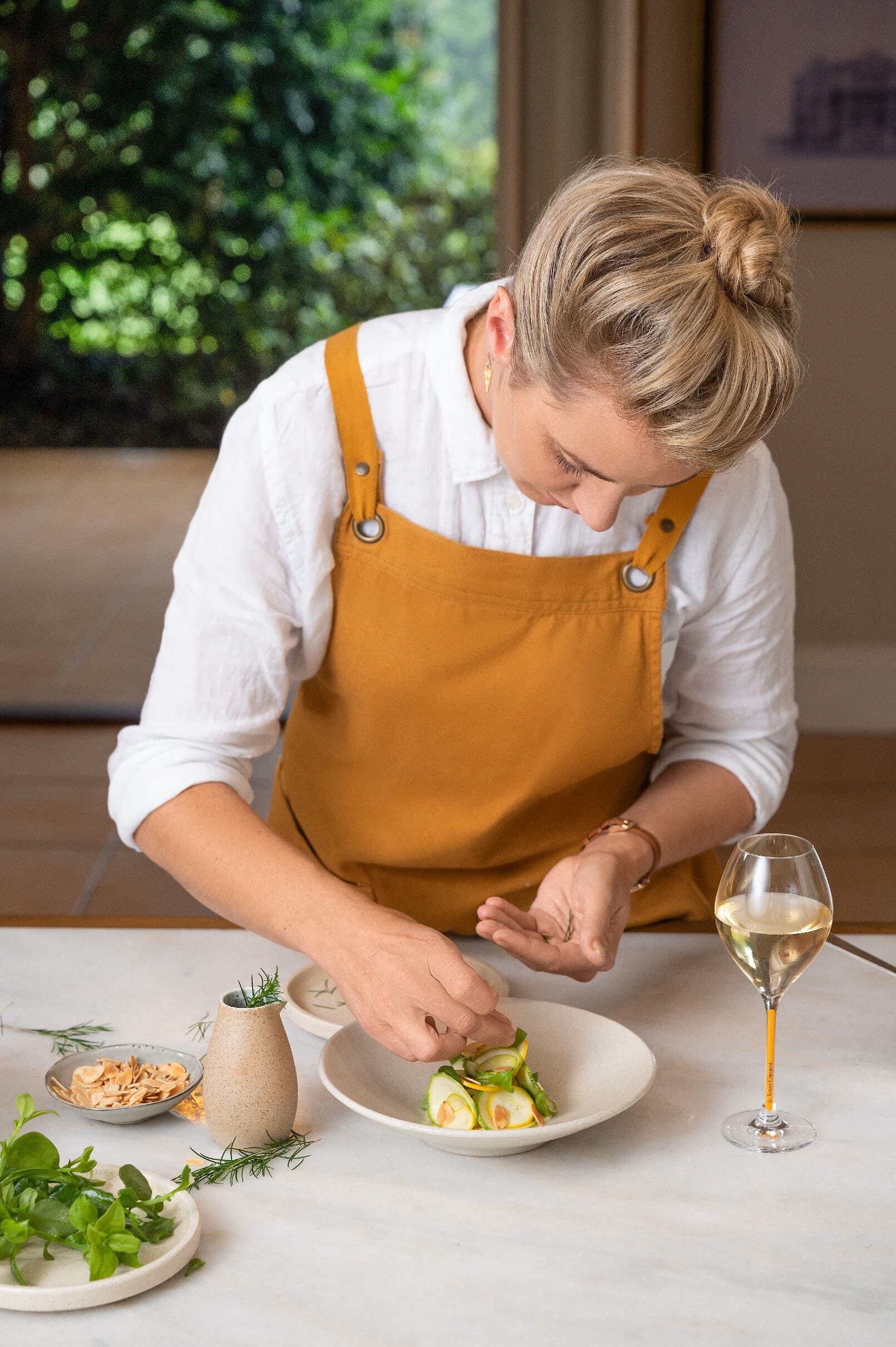 All you'll need
Ingredients
Spanner Crab Whole - 550g approx
Seaweed fresh - 50g (or a sheet of nori)
Butter - 150g
Kombu Tsuyu 1-2tbs
Garlic - 1 clove
Lemon - 1
Geraldton wax & Sunrose (Crunchy, citrusy leaves) 2 stalks of each
Crème Fraiche - 4 tsp
Flaked Almonds (toasted) - 50g
Zucchini – 2 large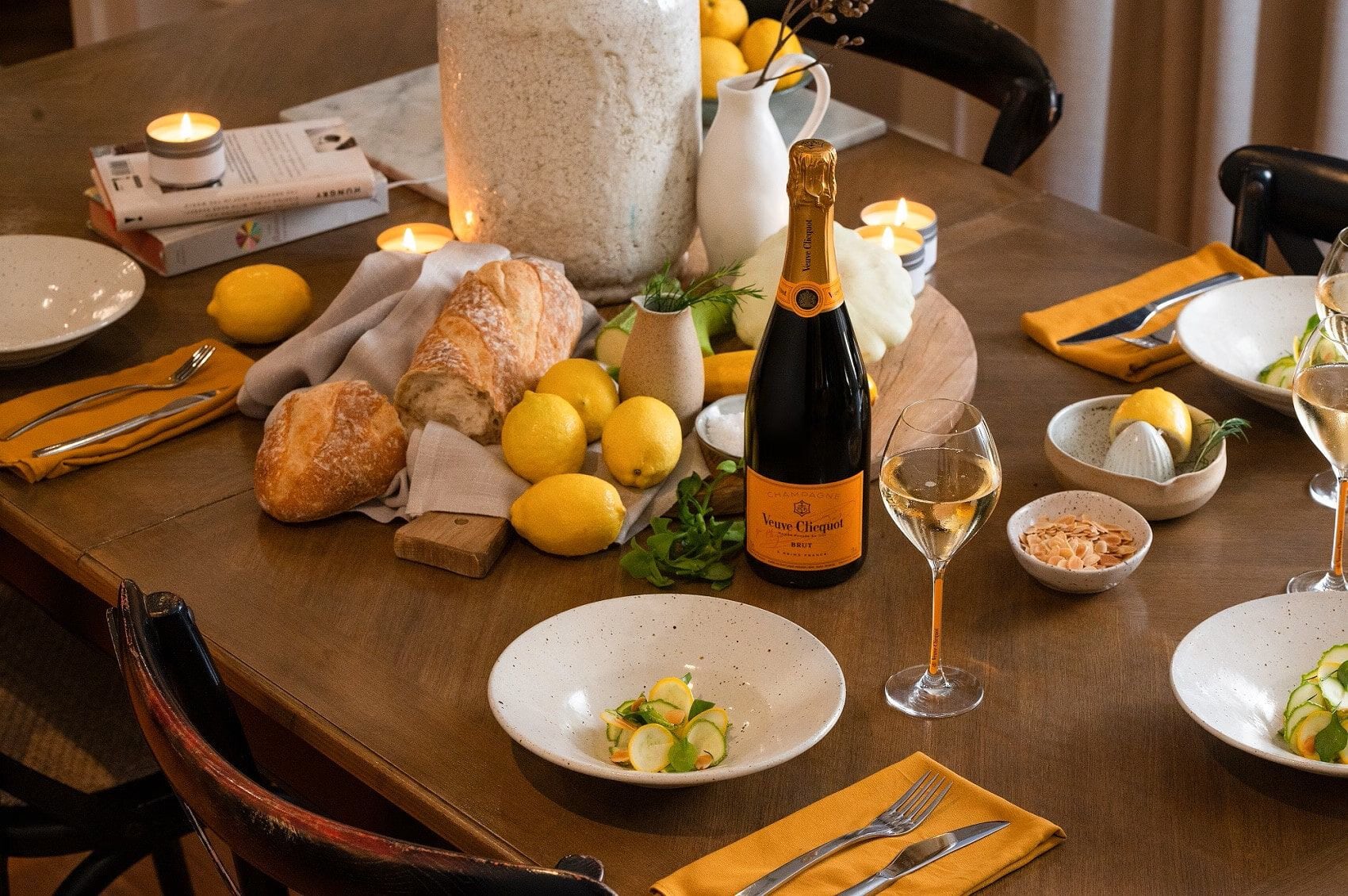 Instructions
To Cook Crab:
-Weigh crab & add 2 for cooking time.Eg 550g (5.5)= 7.5 mins
-Place crab in boiling salted water (salt water until it tastes like the sea) and simmer for required time.
-Pull crab out of the water & place it on its back on the bench (do not put in ice water) and rest for 2 mins. By doing this the meat will be able to be shaken out, leaving beautiful large nuggets of sweet crab meat.
-Once shell is removed break in half & shake out meat. You can also use a crab pick or skewer to help remove meat.
-With legs crack with the back of a knife & remove meat.
-Run your fingers through the picked meat gently and remove any extra shell.
The Dressing:
-Place butter in a saucepan & cook until the butter becomes nutty in smell and golden in appearance (beurre noisette).
-Take off heat and add zest of 1 lemon, 1 crushed clove garlic, seaweed (if using nori -toast prior and blitz to a rough powder) and kombu Tsuyu.
-Adjust with lemon juice if needed.
To Assemble:
-In four bowls place a tsp of crème fraiche in the centre of the bowl.
-Dress the crab with seaweed butter and nestle in the centre on the crème fraiche.
-Slice a variety of zucchinis as thin as possible on a mandolin to create rounds, make a slit from the centre of the circle to the edge, this will allow you to curl up zucchini to a cone like shape.
-Place cone like shapes all around the crab, finish with a scattering of toasted almonds, Geraldton wax & sunrose.
Enjoy.
Discover Alanna Sapwell
Young Australian Alanna Sapwell, leaves diners wanting more wherever she goes. Recently she wowed guests in Noosa with her three-month pop-up Esmay & is currently taking Esmay all around Australia in collaboration with Good Food Month. Alanna trained in Noosa before heading overseas to expand her skills and knowledge at venues in Italy and Japan. On returning to Queensland, she worked at various highly regarded Brisbane venues before joining acclaimed chef Josh Niland at Sydney's two-hatted Saint Peter as the head chef.
In 2018, Alanna returned to Brisbane to open Arc Dining – the darling of the Howard Smith Wharves dining precinct. In its first year, Alanna earned Arc a Chef's Hat alongside a swag of awards including Gourmet Traveller's Best New Talent, Courier Mail's Chef of the Year and Delicious' Unearthed Next Gen Chef. Dedicated to supporting farmers with ethical and sustainable practices, Alanna celebrates the best regional produce and hyper seasonal treasures in every dish. Her menus pay homage to comfort cooking and nostalgia with a special Alanna twist and an elevated execution.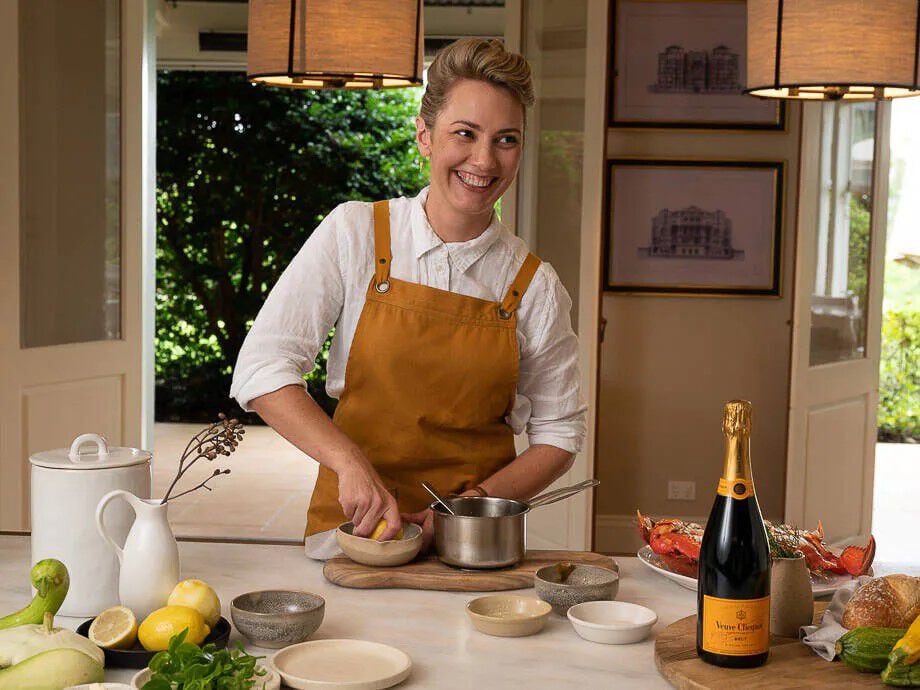 Let them inspire you
They are game-changers, they are shaping the future with true optimism, and they own an authentic voice. Let them inspire you as they make their dreams a reality. Discover the new recipes.